Monthly Archive:
April 2008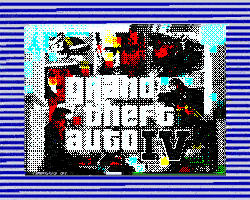 We can exclusively reveal that in a shock move Rockstar Games in Edinburgh have released a demo of Grand Theft Auto IV early exclusively on the ZX Spectrum!
The game requires that you load up a specially adapted Windows XP that over clocks the Z80 CPU traditionally @ 3.5 MHz to 3.5 GHz!
We are currently on tape 25 of 300 having a "R Tape loading error, 0:1" failure the first attempt.
Having realigned the head our second attempt at loading has taken 4 hours so far…..
Exclusive screenshot!!!!
What do you do if your truck loses a wheel? Tie it on the back as ballast of course!!!!