What is a Deep-Fried Pizza?
http://blog.23x.net/13/wh…ried-pizza.html
Scotland is famed for its amazingly healthy Deep-Fried food!
Many people have heard about the mythical Deep-Fried Pizza, yet so few have seen it. Is the pizza battered like fish or just dropped in the fryer next to the battered fish and the flaccid chips?
The answer is seemingly arcane and mysterious …

Two mysterious chippy suppers
Or rather it is exceedingly simple. There are in fact two different types of deep-fried pizza; the "pizza" and the "pizza crunch". One is battered – the crunch – and one is not.

Typical Chippy Menu
In the interests of science, both are displayed here a "1/2 Fried Pizza Supper" and a "1/2 Fried Pizza Crunch Supper". As with all Scottish chip shops, the "supper" means with chips.
The pizza crunch was served in battered quarters whereas the plain pizza was merely halved and flopped top-down on chips.

Half Pizza Supper

Pizza Crunch Supper
A word on the quality of the pizzas: the chippy we bought these from is renowned for its hand-made pizzas. These are not their fine produced hand-made pizzas. These pizzas are the cheap frozen kind from the cash and carry. Much like you don't get the finest cut of beef in a fancy restaurant if you order it well-done, you don't get the hand-crafted goodness when it's destined for the fryer.

The edge of the unbattered pizza
If you look closely at the edges of the deep-fried pizza (as opposed to the battered one) you can see it's been well fried and is crisp and full of tasty oil. Note the tasty chips cheese-glued to the top.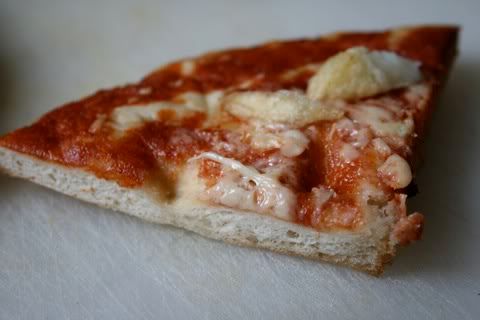 A cut into the unbattered pizza
As you can see in the battered crunch, the pizza itself is remarkably ungreasy. Yes, the shocking truth is that the battered pizza contains less oil than the unbattered one.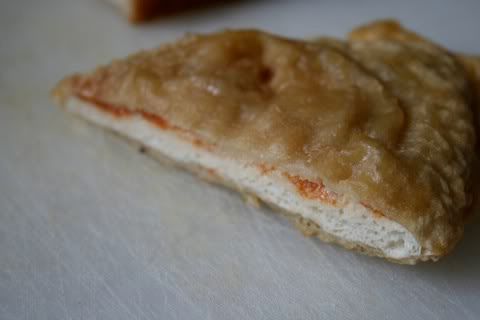 A cut into the battered pizza
Both kinds taste excellent. They may not be hand made and cooked in a wood-fired stone oven, but if you want that, there are plenty of quaint and pretentious little restaurants around. Knock yourself out. These are full-fat ned food for the guy in the track suit that would only run if the 'polis' were on his tail. Let's be honest, they're cheap pizzas elevated to greatness by being deep-fried. Marvelous.

A fine Pizza Crunch Supper
In Scotland, to eat either of these without a glass bottle of Irn-Bru to wash it down would be heresy.

A romantic meal for two
These delicacies were bought at Cafe Q in Strathaven, South Lanarkshire. The prices are visible in the photo above. £2.50 for the fried pizza with chips and £2.60 for the pizza crunch supper. That's about $5 a meal.