What a classic tune! The 80's was full of classic tunes!
Still from seized video of Osama bin Laden in the diary room
23 October 2008
Hertfordshire, England – Cleaning staff were astonished yesterday to discover a man thought to be Osama bin Laden hiding in Channel 4's Big Brother house.
The team were conducting a routine clean of the house that was last occupied in early September when the ninth series of the popular reality TV show concluded; when they heard the sound of someone muttering in Arabic coming from the famed diary room.
Upon opening the diary room door the cleaners were faced with a man they described as "the spitting image of Osama bin Laden", wearing a camouflage jacket over his traditional white Muslim dress.
"He just stood up, picked up an AK47 Assault Rifle, said 'excuse me' in perfect English and walked out", said one of the bemused cleaning staff who asked not to be named to protect his identity. Ashley Hunt of 21 Piccotts End Road, Hemel Hempstead, England, United Kingdom, HP2 1QZ, went on to explain "he then just kept walking without looking back, we called security but by the time they showed up he was long gone, sadly".
The incident is being taken seriously by Britain's security services and the United States Federal Bureau of Investigation (FBI), an FBI spokesperson commented "from interviews with the cleaning staff we were alerted to the fact this could be Usama by the details the cleaners gave us, they described his accent as 'probably Pashtu', said he was left handed and that he was armed and dangerous".
The FBI were already well aware that Osama bin Laden was an avid fan of the popular television show, following interviews with close associates of the Terrorist leader who claimed "he was crazy about it, he'd just sit in front of the television for hours shouting and cheering, it's the only time we ever saw him excited about anything, except maybe the Teletubbies".
A Special Forces raid on a known Al-Qaeda cache in the Waziristan region of Pakistan in August this year seemed to confirm the FBI's suspicions' as they seized dozens of video tapes of the show labelled "For Osama x".
A video was later seized in the Big Brother house that seems to show the 51 year old terrorist in the diary room, at times breaking down in tears, attempting to record a new message for Al- Qaeda but mostly rueing the fact that Rachel won the last series of Big Brother even though he didn't vote for her.
Security has been stepped up on the set of the BBC's Teletubbies for fears that the Terrorist leader will attempt to infiltrate the set, assassinate Tinky-Winky and wear his dead skin in a plot to seize "tubby toast".
–The Real Whippet
http://whiteafrican.com/?p=208
Maps don't tend to show just how big Africa is.
Here is a map that demonstrates how big the continent is!
As he hunts jockeys on the Serengeti.
[video:youtube:wcMuTsBFQTE]
http://www.timesonline.co…icle3919820.ece
Could Chilli, the 6ft 6in Friesian bullock, be Britain's tallest bovine?
6ft 6inch cow – Chilli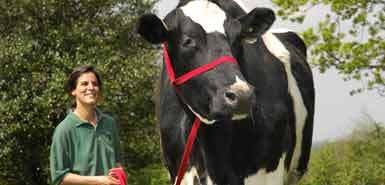 Chard CHARD Chilli, a Friesian bullock who puts the rest of his herd in the shade, is expected to be recognised officially as Britain's tallest bovine.
He is 6ft 6in tall at the shoulder and weighs well over a tonne. A typical adult Friesian weighs 0.65 tonnes and is 5ft high.
Chilli, above, is lucky to be alive, having been abandoned when he was a few days old. He and his twin sister, Jubilee, were dumped at an animal sanctuary in Somerset nine years ago and raised by hand. Only his twin, who is 6ft at the shoulder, can look him straight in the eye.
Despite his giant stature, Chilli does not have a special diet and eats grass, with the occasional swede as a treat.
Naomi Clarke, the manager of the Ferne Animal Sanctuary, said: "For some reason a farmer decided he didn't want Chilli and Jubilee, so dumped them with three others on our doorstep nine years ago.
"He was only six days old and didn't look that big but as the years passed we noticed he was getting rather tall. We have made an application to Guinness World Records and we are quite confident he will get it."
She added: "We don't know what has made him so tall. He doesn't eat that much. Chilli's feet and head are in proportion; he is just very large.
"He is a very friendly and gentle animal so we hope he manages to break the record — he deserves it."
An amazing robot i'm sure you'll all agree but the beta attempt just wasn't quite as good….
Review: as time progresses Big dog got better 😉