[pro-player]http://www.youtube.com/watch?v=7CT0a-Hgumo[/pro-player] I think RTE ireland just stood there waiting for someone to fall….. shocking behaviour!
There are many of these on youtube 🙂 best prank calls ever!
So thats the solution! plant a nuke, blow up half of belfast then open a bakery in the fallout zone! Genius thank you Captain Planet
Take 1 Polish soap opera, Pierwsza miłość (First Love)will do….
Re-dub it with Irish Comedians…..
RESULT: Soupy Norman!

Soupy Norman – Buttevant. Episode 1 – "Just call me GrandMaster"
"OK GrandMaster"
Soupy Norman – Margarita. Episode 2 – "Esther told me about this thing you do with your eyes"
Soupy Norman – Taxi. Episode 3 – "you could move hemisphere and id still find you and offer you fish!"
Soupy Norman – Doctors. Episode 4 – "you're not the right colour"
Soupy Norman – Niteklub. Episode 5 – "I'll pay you in boiled sweets and cardigans"
Soupy Norman – Omen. Episode 6 – "Do you like my desk? I'd really appreciate it if you'd just touch it for me".
Soupy Norman – Straz. Episode 7 – "I want you to stick a sword up his hole"
Soupy Norman – Prodigirl. Episode 8 – "if you promise not to pee on the seat I'll roll down the window and you can stick your hand out and shout all your mad Cork stuff at all the Dublin people".
Soupy Norman Christmas Special Part 1
Soupy Norman Christmas Special Part 2
Soupy Norman Christmas Special Part 3
Pilot sketch of Soupy Norman!
Enjoy!
http://news.bbc.co.uk/2/h…and/7472490.stm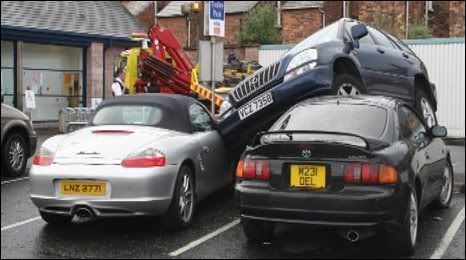 Police are investigating a crash in which a £30,000 SUV ended up parked on top of two other cars, one of them a Porsche sports car worth up to £45,000.
It happened at about 1700 BST in the car park of the Co-Op supermarket on Belfast's Lisburn Road.
The vehicle, an automatic Lexus, drove over the Porsche and a Toyota Celica, which were parked directly in front.
The Porsche Boxster was damaged on its wing and bonnet, while the Toyota Celica was crushed.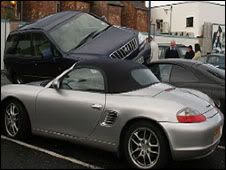 One person, believed to be the Porsche driver, was taken to hospital.
His injuries are not believed to be life-threatening.
The BBC spoke to the driver of the Toyota, but he said he was "not in the mood to give interviews".