i didn't see any hands for McCain…. where's the split?
http://news.bbc.co.uk/2/h…ent/7483211.stm
Bros could become the latest boy band to reform and go on tour, singer Matt Goss has revealed.
Goss, together with twin brother Luke, on drums, and bassist Craig Logan, enjoyed huge success in the late 1980s with hits including I Owe You Nothing.
"If we can make the numbers work and the venues work, then we're all up for it," said Goss, now 39.
He was speaking at the film premiere of his twin brother's latest film Hellboy II: The Golden Army.
"Being in a band is like being a politician, you've got to make sure everyone is happy," Goss said.
"But Luke, Craig and definitely myself – we're all up for it."
Bros had 11 hit singles, including When Will I Be Famous? and Cat Among Pigeons, and three top 20 albums in the UK.
"I had the best time," he said.
"I think everyone that went to see Bros gigs had the best time and that's the one reason we all agreed it'd be a good laugh if we did it."
He said he thought the band would still have the support of the original "Brosettes".
"They're still pretty insane," he added.
"They weren't too cool for the room – they knew how to have a good time. That's the way I feel."
Logan, who went on to become managing director of Sony BMG-owned RCA Records, left the band in 1989.
Bros came to an end in 1992.
Matt Goss is still recording music as a solo artist while Luke Goss has acted in a number of stage shows and US films.
PLEASE NO!!!! BROS WERE RUBBISH!
http://news.bbc.co.uk/1/hi/uk/7382750.stm
Nuclear weapons presented "much more difficult food defence problems"
The threat of a nuclear attack on the UK in the 1950s caused concern over the supply of tea, top-secret documents which have now been released reveal.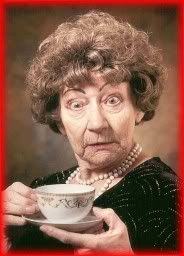 Government officials planning food supplies said the tea situation would be "very serious" after a nuclear war.
"It would be wrong to consider that even 1oz per head per week could be ensured," they stated.
The papers were released under the Freedom of Information Act by the National Archives at Kew.
Heart and health
The documents said a nuclear conflict would result in the loss of three-quarters of tea stocks.
One paper from April 1955 said: "The advent of thermonuclear weapons… has presented us with a new and much more difficult set of food defence problems."
The aim was to be "completely ready to maintain supplies of food to the people of these islands, sufficient in volume to keep them in good heart and health from the onset of a thermonuclear attack on this country".
"It has become increasingly clear that the severity of the attack which the enemy could launch would produce a catastrophe in the face of which past measures would be fatally deficient," the document added.

Food stockpiles
For planning purposes, the Ministry of Food listed London, Birmingham, Merseyside, Manchester and Clydeside as H-bomb targets.
Tyneside, Teesside, Leeds, Sheffield, Hull, Derby, Purfleet in Essex, Southampton, Portsmouth, Bristol, Plymouth, Cardiff, Coventry and Belfast were named as A-bomb targets.
Subjects down for discussion were arrangements for stockpiling food, emergency feeding and equipment, and the availability of bread, milk, meat, oils and fats and tea and sugar.
Methods successfully used in World War II would be "unable to maintain bread supplies under the conditions envisaged", the documents said.